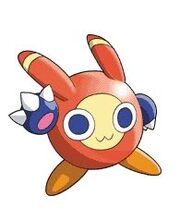 Moos (ムゥ) are the common main enemies in the Klonoa series. They're oblivious cat-like creatures with a cute smile and big eyes that slowly waddle along paths. They can also be used by Klonoa for double jumps, or throwing at other enemies. 
Moos come in a variety of colors: the red Moos have no attacks and simply walk away, the green Moos have wings for arms to fly, and some Moos are shielded by silver, gold, or black armor. Although their population is widely spread apart, they seem to have only one leader, Heart Moo. This may be because they are so easygoing, as seen in their fighting style. They don't seem to be so bright either.
In the crossover game, Namco X Capcom, the Moos are creatures from the Phantom World that make "moo" noises. The Moos present in the game are the standard Moo, Giant Moo, Shield Moo, Giant Shield Moo, and the silver and gold Armored Moo. Their fighting style are slashing or slapping. They are voiced by Eriko Kigawa.
List of Moos
Gallery