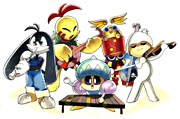 Phantomillian Prisoners, or Captured Villagers, are imprisoned characters that appear throughout the Visions in Klonoa: Door to Phantomile. They are the inhabitants of Phantomile who have become trapped inside bubbles that are in fact dreams.
A disruption in the balance of dreams in the world caused nightmares to begin dreaming their own dreams. The dreaming in turn trapped hapless Phantomillians. The number of Phantomilians Klonoa rescues will effect how music is played back in the world map that is shown when you clear a vision level.
Community content is available under
CC-BY-SA
unless otherwise noted.